Our services
As we seek to facilitate as much as possible for your company in the stone management process, we offer a comprehensive entrepreneurship. With the permission of both blasting and transport, and private utilities we work completely independently. You can leave all the work to us and concentrate on the refinement process.
Quarrying & transport
Holmstedts Stenteknik AB provides a sound knowledge of quarrying techniques. We specialize in a comprehensive entrepreneurship in rock excavation, as we are the only ones to carry around Sweden. We undertake all tasks within the blasting, excavation, extraction and transportation of raw materials.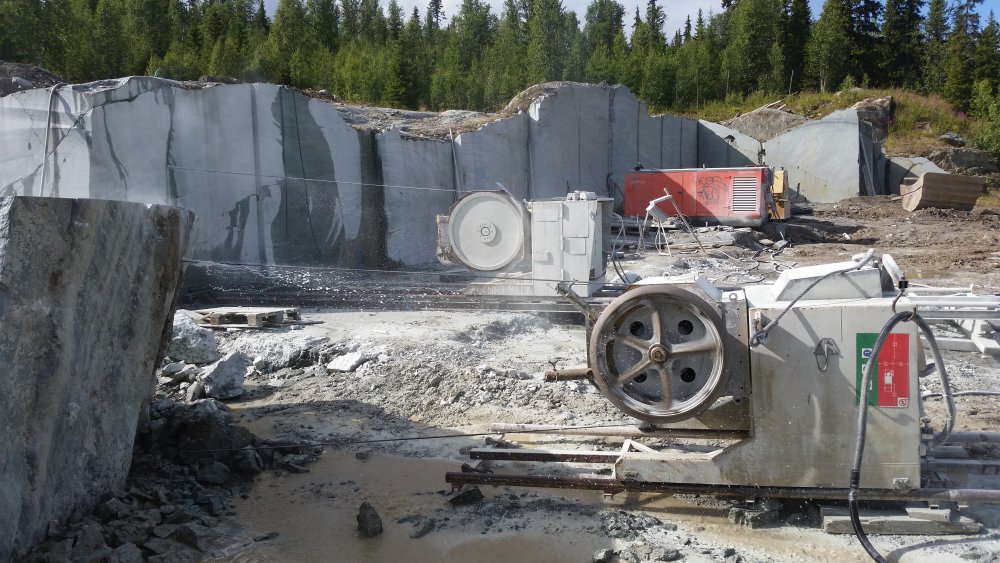 The mining is done mostly from marble, limestone and sandstone, but we also perform work in other stone materials. Over the years we have accumulated a wealth of experience and knowledge to quickly and efficiently deliver raw materials. Along with just your desire for raw material size and our knowledge and flexible approach, we can customize the quarrying. This minimizes the handling of waste rock in the manufacture of the finished product.
We work in shifts seven days a week in our striving as quickly as possible to deliver the finished materials. Without the sake of compromising on quality. During the quarrying, we use our experience and knowledge of how different species of rock hardness and character determines which technology is best. We have developed a circular saw that in combination with a wire saw is our main tool.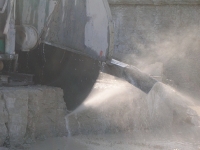 Our circular saw with blade of diamond covered teeth, saws vertical grooves in the rock. Cutting depth is adapted to the natural layer or maximum depth of the blade (1000 mm). The diamon covered steel cable, the wire saw, is also used cutting horizontally. In order to reduce transport costs and cost-efficient processing is sorted as much as possible of scrap stone away directly into the quarry. We are the only company to have developed a unique sawing technique where it is possible to cut thin slabs into the rock.
Transport
With our transport permits, we can provide transportation from the quarry to the place where the processing begins. With our quarrying technique, where much of the waste rock left in the quarry, also keeps the transportation costs down.
Wire sawing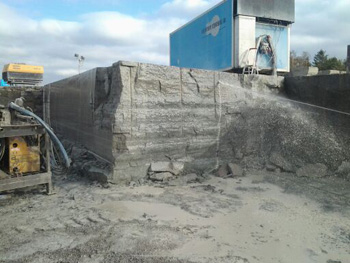 When the surroundings are sensitive, wire sawing is an alternative to blasting. Advantages of wire sawing include minimal vibration and minimal noise. The method also provides smooth surfaces. The first step is to drill a number of holes defining the volume to be cut off. After that a diamond covered steel cable is threaded through the holes, and the rock is cut.
Excavation & blasting
We've got explosive perimts and many years experience of careful blasting. To get down to a level where the rock is of good enough quality, excavation and blasting is a good method. Also blasting combined with wire sawing is a good method to avoid vibrations and cracks in the rock.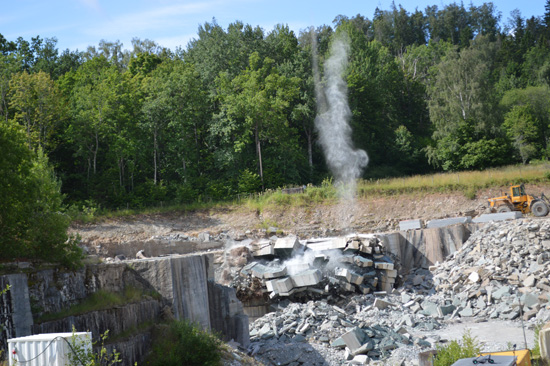 We've got explosive perimts and many years experience of careful blasting.